30+ Excellent Windows Phone 7 Development Tutorials
Here are 30+ cool Windows Phone Development articles for all developers interested in developing applications or games for the new Windows Phone 7 Platform. These tutorials covers the Windows Phone 7 Overview, the Developer and the Windows Phone 7 Marketplace, How to become a developer, Setting up your system, Intro to creating Windows Phone applications and many more. Enjoy!
Lynda.com Building Mobile Apps for Multiple Devices with Flash Professional Video Interactive Tutorial with Exercise Files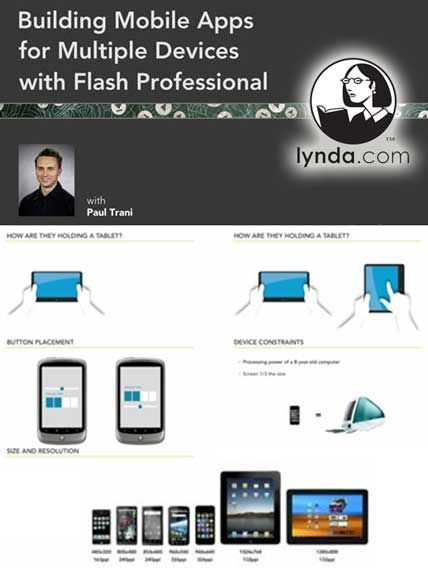 In this course, author Paul Trani demonstrates how to create, test, and publish a mobile app that works across multiple platforms (iOS, Android, and BlackBerry Tablet OS) and adapts to either a smartphone or tablet display. The course also tackles the issue of various screen sizes and density and how to scale and adjust content. Exercise files are included with the course.
FOR WINDOWS AND MAC. EXERCISE FILES ARE INCLUDED
Topics include:
* Designing for mobile
* Modifying existing web content for mobile delivery
* Using the accelerometer
* Setting up a mobile project
* How to test and debug
* Optimizing graphics and ActionScript for mobile
* Creating scalable content
* Adjusting for orientation
* Sharing and updating graphics across multiple projects
* Publishing an app to the App Store and Android Market
Introduction 3m 8s
Welcome 54s
Using the exercise files 39s
What you should know 1m 35s
1. Mobile and Tablet Overview 9m 42s
Designing for mobile devices 6m 23s
Overview of Adobe AIR 3m 19s
2. Mobile App Design 35m 10s
Modifying web content for mobile devices 10m 30s
Dynamically positioning graphics 10m 45s
Using the accelerometer 13m 55s
3. Testing on Android Devices 21m 42s
Publishing an app 6m 30s
Testing on an Android device 2m 44s
Debugging your app 5m 27s
Checking a device's capabilities 7m 1s
4. Optimization 21m 56s
Adapting content for specific devices 7m 31s
Optimizing graphics for mobile devices 8m 25s
Optimizing ActionScript 6m 0s
5. Adapting for Different Devices 23m 25s
Creating content for different platforms 9m 37s
Creating content for tablets 3m 38s
Updating graphics across projects 3m 33s
Adjusting for orientation 6m 37s
6. Testing on iOS Devices 19m 38s
Creating a developer certificate 6m 5s
Provisioning a device for testing 7m 53s
Publishing an iOS app 5m 40s
7. Submitting to the Public 15m 56s
Submitting to the Apple App Store 8m 5s
Submitting to the Android Market 7m 51s
Conclusion 23s
Goodbye 23s
LINKS ARE INTERCHANGEABLE
RAREFILE
http://www.rarefile.net/xrfxk0ukvtu4/BuildingMobileApps.part1.rar
http://www.rarefile.net/ylu8abh0bbkd/BuildingMobileApps.part2.rar
http://www.rarefile.net/2eigth9m0cls/BuildingMobileApps.part3.rar
http://www.rarefile.net/8nzz1t026e42/BuildingMobileApps.part4.rar
http://www.rarefile.net/w5b8ys6pisnp/BuildingMobileApps.part5.rar
http://www.rarefile.net/iu2jthdkv5cj/BuildingMobileApps.part6.rar
EXTABIT
http://extabit.com/file/2duhc6mizt3jv/BuildingMobileApps.part1.rar
http://extabit.com/file/2duhc6mizt3nv/BuildingMobileApps.part2.rar
http://extabit.com/file/2duhc6mizt3ob/BuildingMobileApps.part3.rar
http://extabit.com/file/2duhc6mizt3or/BuildingMobileApps.part4.rar
http://extabit.com/file/2duhc6mizt3p7/BuildingMobileApps.part5.rar
http://extabit.com/file/2duhc6mizt3m3/BuildingMobileApps.part6.rar
-
HTML5 Mobile Web Development
Ready to create mobile web applications with HTML5? In this 10-week online course, you'll learn how to build mobile apps using several HTML5 features—including the new semantic elements, geolocation, audio and video tags, local storage capacity, web forms, and the canvas 2D drawing surface. During the course, you'll combine HTML5 elements with JavaScript and CSS3 to create apps for Twitter, movie trailers, and an address book.
Discover how to style your apps to respond to a device's vertical and horizontal orientation, take advantage of global positioning, draw your own controls and create basic animations, make your app available to users offline, and more—in just ten weeks.
First one starts in … oh, look at that, half an hour. So unless you're
right on top
of our posts, guess you probably missed that. But hey, it's just an overview; looks like the interesting stuff starts next week, full session descriptions at the above link.
Aaaaaand while we're discussing HTML5 development, this looks like a good place to stash some of the looking worth a followup read links in that space we've noted recently about the various frameworks available:
10 Useful Frameworks To Develop HTML-Based Webapps for Touch Devices
18 Mobile Frameworks and Development Tools for Creating iPhone Apps
Introducing Sencha Touch: HTML5 Framework for Mobile
Getting Started With Appcelerator
Impressive Growth for Appcelerator
(note
native app showcase
)
In-Depth Corona SDK Review
[UPDATE:
Yo Yo, develop killer cross platform mobile Web apps with Jo
!]
And here's a jumble of other vaguely HTML related tips and tricks for design and device support:
Configuring an iPhone Web App With Meta Tags
CSS for iPhone 4 (Retina display)
How to make your web content look stunning on the iPhone 4's new Retina display
Targeting the iPhone 4 Retina Display with CSS3 Media Queries
HOWTO: CSS for the iPad
Tutorials: Swipe Reading, Orientation Support, And Image Slideshows In iPad Web Apps
Safari Web Content Guide: Optimizing for Safari on iPhone
21 Ridiculously Impressive HTML5 Canvas Experiments
HOW TO: Get Started with HTML5 Boilerplate
HTML5 Mini Template
[ UPDATES:
12 Best HTML5 Website Templates For Free Download
12 Great Tips for iPhone Web Development
]
And mix up HTML5 and native development:
UIWebViews and CSS3 Fonts
And you'll probably want some fonts for that; check out recent news on that front,
Helvetica Joins the Web Font Revolution
And just in case that isn't enough for you to read, check out
20 Useful Free PDF ebooks for Designers and Bloggers
Some pretty interesting stuff in that list!
Mobile Networks Tutorial