Gameloft (All) HD Games for Android Smartphones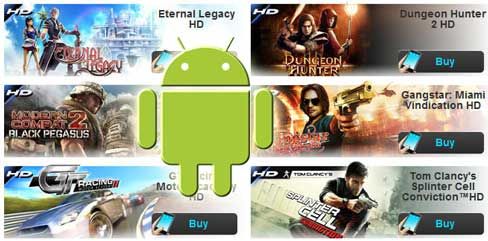 75 HD Games
2011 Real Football HD Samsung GTi9000 Galaxy S android Crackfix Twingo
ANDROID Gangstar ML IGP GAND TnB 337
ANDROID Gangstar ML IGP GAND TnB 338
ANDROID Gangstar ML IGP GAND TnB 340
ANDROID Gangstar ML IGP GAND TnB 341
Asphalt5 Android ML IGP ANMP TnB 319
Asphalt5 Android ML IGP ANMP TnB 322
Asphalt5 Android ML IGP ANMP TnB 323
Asphalt5 Android ANMP ML 321
Asphalt5 HTC Scorpion ML IGP ANMP TnB MS TS 332
Asphalt5 Samsung i500 ML IGP ANMP TnB MS TS 332
Asphalt5 SamsungP1000 TnB Android ML 318
AssassinsCreed Android ML IGP GAND V331
AssassinsCreed Android ML IGP GAND V332
AssassinsCreed Android ML IGP GAND V333
AssassinsCreed Android ML IGP GAND V334
AssassinsCreed Android ML IGP GAND V337
AssassinsCreed Motorola Milestone2 ML IGP GAND TS V346
AssassinsCreed SamSung i500 ML IGP GAND V343
DungeonHunter Android ML IGP GAND TnB 348
DungeonHunter Android ML IGP GAND TnB 349
DungeonHunter Android ML IGP GAND TnB 350
DungeonHunter Android ML IGP GAND TnB 353
DungeonHunter Android Motorola Droid ML IGP GAND 347
DungeonHunter Android SonyEricsson X10 ML IGP GAND 342
DungeonHunter Motorola Droid ML NOIGP GAND 311
DungeonHunter Motorola Droid ML NOIGP GAND 316
DungeonHunter Motorola Droid ML NOIGP GAND 323
DungeonHunter Motorola Droid ML NOIGP GAND 324
DungeonHunter Motorola Jordan ML IGP GAND TS 358
DungeonHunter Motorola Milestone ML IGP GAND TS 357
DungeonHunter Motorola Milestones2 EN FR DE ES IT JP IGP GAND TS 359
DungeonHunter Samsung P1000 ML IGP GAND FULL TS 356
DungeonHunter Samsung P1000 ML IGP GAND TnB TS 355
DungeonHunter SonyEricsson X10i ML IGP GAND TS 357
Gangstar EVO 4G ML IGP GAND 303
Gangstar HTC DesireZ ML IGP GAND MS TS TnB 347
Gangstar Samsung GalaxyS ML IGP GAND 309
Gangstar Samsung P1000 ML IGP TnB 306
Gangstar SamsungP1000 ML TnB 308
Hawx 325
Hawx HTC VISION ML IGP ANMP TnB MS TS V337
Hawx Motorola Droid A855 ML NONIGP GAND V328
Hawx SE X10i ML NONIGP GAND V328
HTCLetsGolf2Crackfix
LetsGolf2Crackfix
Nova Android EN FR DE SP IT IGP GAND TnB 341
Nova Android EN FR DE SP IT IGP GAND TnB 342
Nova Android EN FR DE SP IT IGP GAND TnB 344
Nova HTC ACE 310 FULL
Nova HTC DesireZ EN FR DE SP IT IGP GAND TS TnB 350
NOVA SamsungP1000 ML TnB 313
Nova TNB Android GAND ML 339
Sandstorm 322
Sandstorm Android GAND EN 326
Sandstorm Android GAND EN 327
Sandstorm Android GAND EN 328
Sandstorm Android GAND ML 334
Sandstorm HTC SCORPION ML IGP GAND TS TnB 342
Sandstorm HTC VISION ML IGP GAND TS TnB 341
Sandstorm SAMSUNG SCHi400 SCHi500 ML IGP GAND TS TnB 338
Sandstorm SamsungP1000 ML TnB 309
Sandstorm SamsungP1000 TnB ML 311
SandstormHD+ Samsung i800 FR EN DE ES IT JAP NONIGP TnB 307
SGSLetsGolf2Crackfix
Splinter Cell Conviction HD Samsung SPHD700 Epic 4G android Cracked Twingo
UNO ANDROID ML NONIGP GAND 331
UNO ANDROID ML NONIGP GAND 335
UNO ANDROID ML NONIGP GAND 340
UNO ANDROID TNB ML 318
UNO HD Samsung GTP1000 Galaxy Tab android Cracked Twingo
UNO HTC DesireZ ML IGP GAND TS 346
UNO HTC Scorpion ML IGP GAND TS 345
UNO Samsung SCHi500 ML IGP GAND TS 346
X10LetsGolf2Crackfix
LINKS INTERCHANGEABLE
RAREFILE
http://www.rarefile.net/timbk6nz8581/GameloftAndroid.part1.rar
http://www.rarefile.net/r89ogaw8tre3/GameloftAndroid.part2.rar
http://www.rarefile.net/pjbcrmosayyl/GameloftAndroid.part3.rar
.
EXTABIT
http://extabit.com/file/27aydu7um1udk/GameloftAndroid.part1.rar
http://extabit.com/file/27aydu7um1ug8/GameloftAndroid.part2.rar
http://extabit.com/file/27aydu7um1ugo/GameloftAndroid.part3.rar
SmartLocker for Android
A new application
SmartLocker
for Android dismisses from permanent entry of password and automatically unlocks the phone when the device is placed in a trusted Wi-Fi network.
Add in settings those Wi-Fi networks where you don't need to block the phone from others, for example at home or in the office.
SmartLocker is distributed for free via online
Google Play market
. The devices based on Android 2.1 or later are supported.
50 Must-Have Applications For Android Tablets
Despite the hundreds of thousands of applications on the Play Store, it seems that there is a great shortage of apps tailored towards Android tablets. Google doesn't provide a specific category to make it easy to find them, the "Staff Picks For Tablets" section contains apps that aren't even optimized for tablets, and you'd have to surf the whole internet to find decent recommendations.
Do you know of any other awesome app optimized for Android tablets that we did not mention here?